I've always been nomadic. As a young adult, the idea of staying in one place for more than a few months, let alone a few years, was a foreign concept. The same can be said for my husband. Both individually and as a couple pre-kids, we've travelled to Southeast Asia, Australia, South America, and Europe. We hadn't been abroad (except to Canada and Mexico) with our two children ever, and they were 8 and 10 years old! The time had finally arrived for our overseas adventure.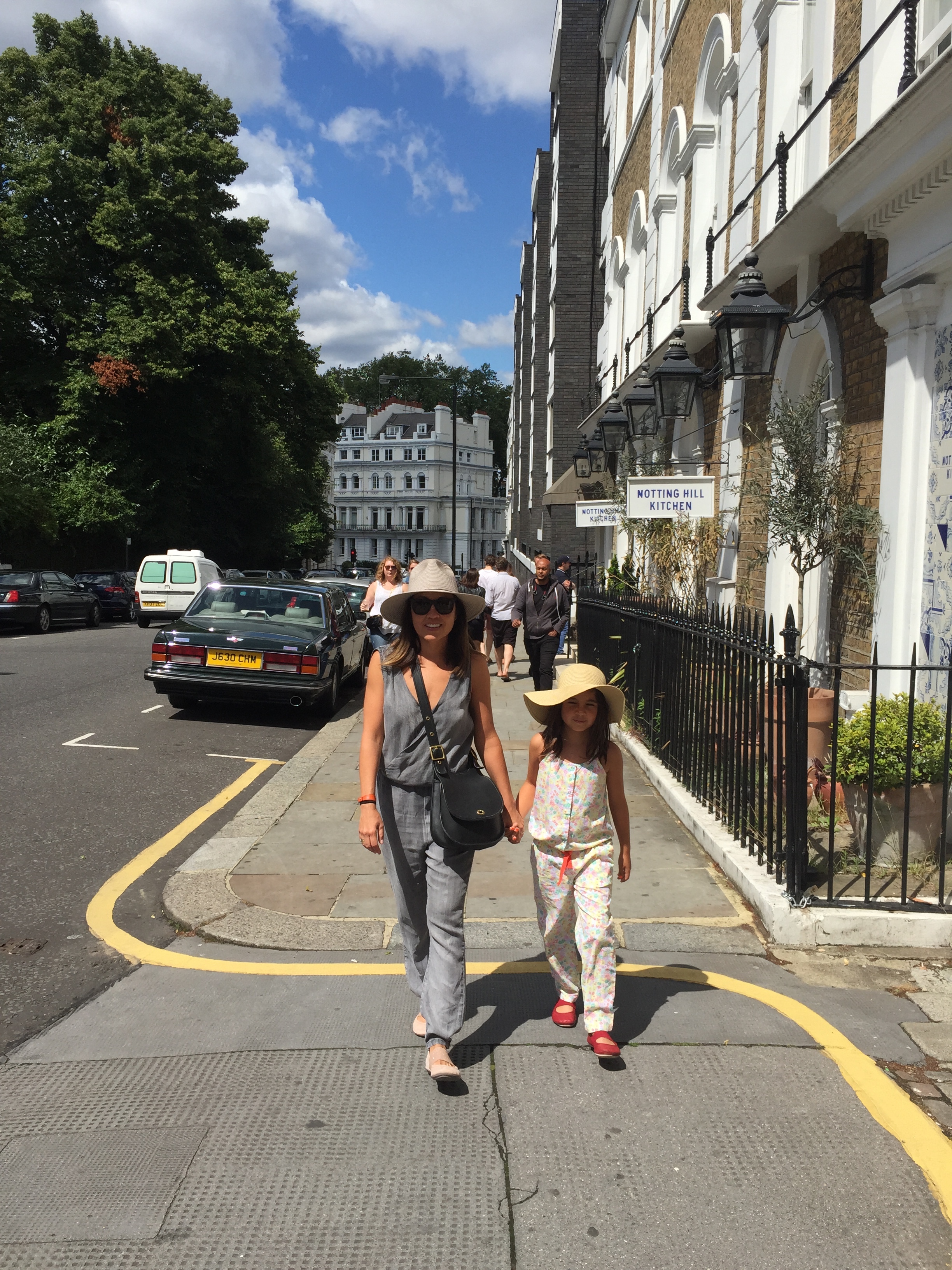 Picking a place to travel with a family of four was daunting. For our first global adventure we narrowed down our choices to somewhere in Western Europe, ultimately landing in the U.K. and France (most of which was dictated by our American Express points). It can be ridiculously expensive to buy airfare in the summer from the U.S. to Europe, but American Express Membership Rewards program has a relatively broad set of airline partners. It's roughly a 10 hour flight and Virgin Atlantic offers complimentary in-seat entertainment, excellent food, beverage service (also included), and free Wifi. Since so much of the adventure is the actual flight itself, I reserved seats for the kids right behind our. This made the flight enjoyable for everyone: they felt independent, sitting "alone", and we got to enjoy cocktails and read our books in peace.
Once we arrived to Heathrow, we planned to take an Uber to London. Unbeknownst to us, the traffic in and around London rivals L.A. After some sage advice from an airport policemen, we settled on taking the train, which was cheap and fast. The kids loved it. They don't get to take advantage of much public transport in L.A., so it was a treat for them to drag their roller luggage bags onto the train. Once we arrived in London we took an Uber to our house rental in Notting Hill which we reserved through a fantastic service called One Fine Stay, a highly curated version of VRBO or Airbnb. We arrived at our flat and were pleasantly surprised to see it was even better in person than the pictures: a one bedroom plus sofabed with all the modern conveniences for a vacationing family including a fully stocked kitchen, linens, tv, and easy to use stereo. One Fine Stay leaves a local iPhone for its guests preloaded with recommendations from the home owner on restaurants, exhibits, tourist attractions, and all kinds of locals shopping. The phone also enables you to make local calls. Excellent!
There is so much to do in London, but five days allowed our family to get a great feel for the city. You'll definitely have to fight some of the tourist masses in the Summer, but you would have to do that most months. London is a great "walking city". Public transport is super easy and convenient, so when you're tired of walking just hop on a bus or the tube.
The open top bus tours were a great way to take in the city sights. They take you around several different routes of the city and there is unlimited hop on/hop off. My recommendation: http://www.theoriginaltour.com/
Some things not to miss in London:
Museums (All museums are free in London but some may have special exhibits that charge a fee)....listed in order of my personal favorites:
Areas/Neighborhoods
There is a ton to do all throughout the city, but here are some areas which we found interesting and are fun to walk around:
Covent Gardens, lots of great shopping, cafes, pubs, street performers
SOHO, (next door to Covent Gardens), a bit seedy so maybe not the best family friendly area at night, but it's pretty entertaining for a brief stroll
Oxford Street / Regent Street, big time shopping if you're up for that
Carnaby Street, center of the 70's punk/skater movement, cool shopping, bars, etc.
Knightsbridge, very wealthy part of SW London where Harrods is located, lots of very high end shopping. Fun to walk through Harrods and see all the Ferraris, Lamborghinis, Rolls Royces everywhere. This was my son's favorite!
Hyde Park, beautiful park in the center of London
Notting Hill, big outdoor market on Saturdays where the streets are closed and loads of vendors/stalls setup, crowded but worth it
Attractions
Parliament, Buckingham Palace, Big Ben: Our first stop the morning after we arrived was the Changing of the Guard ceremony conducted every morning at Buckingham Palace. It's super crowded, so get there early. We, kids, muscled their way to the front of the gates and witnessed this centuries old tradition from a good vantage point.
London Eye / Southbank: great views from the top but the lines can be long on peak days. Southbank which is the area around the Eye is great for cruising round.
Tower of London
Markets
Borough Market: This was our absolute favorite outing. It is a stunning array of artisanal food purveyors from around the region. We ate oysters and drank champagne, while the kids sampled cheeses and sweets. Think of it like a carnival of people-watching meets a foodies dream: not to be missed!
Brick Lane Market: Lots of goodies ranging from antiques, vintage clothing and jewelry, to homemade artsy items. Located in London's east end on Sundays
Bars/Pubs/Restaurants/High Tea
Honestly, too many to mention/recall. You can't go wrong exploring. Definitely use Trip Advisor for specific recommendations as well as Timeout. One thing to do is get a proper roast traditionally served for Sunday lunch.
High Tea: You really can't go to London with your daughter and not have a proper English high tea! There a ton of lovely options. We chose the Palm Court at the Langham Hotel. It was decadent and delicious, so you feel a little like royalty. It's suggested for men to wear collared shirts, no sneakers.
One of my personal favorite things I did (without the family) is get up early several mornings and jog from our rental to Kensington Gardens and Hyde Park. From there, I'd run to Royce Albert Hall, London's famed performance hall, then down to Princess Diana's Memorial Fountain. The kids and hubby would meet me at Jamie Oliver's bakery on the way back for homemade scones and English tea! Sublime...
Next up....PARIS…